Physical Therapy for Knee Pain Relief
Knee pain can make it pretty difficult to get around. Whether you're suffering from a swollen knee, patella problems, a ligament injury, or arthritis, the pain can make it hard to run, walk, or even sit down.
Luckily, there's help. No matter what kind of knee pain you're experiencing, in most cases, seeing a physical therapist is the right choice for treatment. Physical therapists have the expertise and training to alleviate your pain and guide you toward recovery.
Physical Therapy for Knee Pain: The Facts
It's effective for many knee conditions:
Physical therapy is proven to reduce both knee cap pain and arthritis-associated pain of the knee.1,2
Physical therapy is beneficial to patients before and after knee replacement surgery.3,4
It's cost effective:
With physical therapy, you won't have to keep spending money on a maintenance program: the goal is to help you achieve a complete recovery.
Your physical therapist looks at more than just your knee:
A detailed examination might reveal that additional factors are contributing to your problem. This holistic exam and subsequent treatment approach often result in long-lasting pain relief.5
With physical therapy, you're taken care of by experts:
Physical therapists have the background and the training to effectively treat your knee pain.6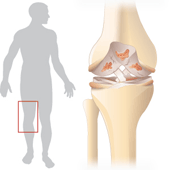 Visit our Medical Library for:
Causes of knee pain
Illustrations
Possible treatments
Additional web resources links.
Call us today and start feeling better tomorrow!
(949) 545-7007
If you'd like more information, download the physician referral form below, and ask your doctor if physical therapy is right for you.
Click Here to Download Physician Referral Form
References:
Crossley K, Bennell K, Green S, Cowan S, McConnell J. Physical therapy for patellofemoral pain: a randomized, double-blinded, placebo-controlled trial. Am J Sports Med. 2002;30(6):857-865.
Deyle GD, Allison SC, Matekel RL, et al. Physical therapy treatment effectiveness for osteoarthritis of the knee: a randomized comparison of supervised clinical exercise and manual therapy procedures versus a home exercise program. Phys Ther. 2005;85(12):1301-1317.
Mizner RL, Petterson SC, Stevens JE, Axe MJ, Snyder-Mackler L. Preoperative quadriceps strength predicts functional ability one year after total knee arthroplasty. J Rheumatol. 2005;32(8):1533-1539.
Mizner RL, Petterson SC, Snyder-Mackler L. Quadriceps strength and the time course of functional recovery after total knee arthroplasty. J Orthop Sports Phys Ther. 2005;35(7):424-436.
Mascal CL, Landel R, Powers C. Management of patellofemoral pain targeting hip, pelvis, and trunk muscle function: 2 case reports. J Orthop Sports Phys Ther. 2003;33(11):647-660.
Childs J, Whitman J, et. al. A description of physical therapists' knowledge in managing musculoskeletal conditions. BMC Musculoskeletal Disorders 2005, 6:32
NOTE: Physical therapy may not be for everyone, such as those who have a history of cancer, or severe systemic or neurological conditions; those who have experienced recent/significant unexplained weight loss, have structural deformities, have experienced a recent trauma resulting in fractures, or those who have used steroids.
Disclaimer: The information in this website is intended for informational and educational purposes only and in no way should be taken to be the provision or practice of physical therapy, medical, or professional healthcare advice or services. The information should not be considered complete or exhaustive and should not be used for diagnostic or treatment purposes without first consulting with your physical therapist, occupational therapist, physician or other healthcare provider. The owners of this website accept no responsibility for the misuse of information contained within this website.